~~**TIS THE SEASON Blog Hop**~~
~~~~ Click
HERE
for the 300 Blog Follower Giveaway ~~~~
Hello to all of our Pretty Little Peacocks
Welcome to Pinque Peacock's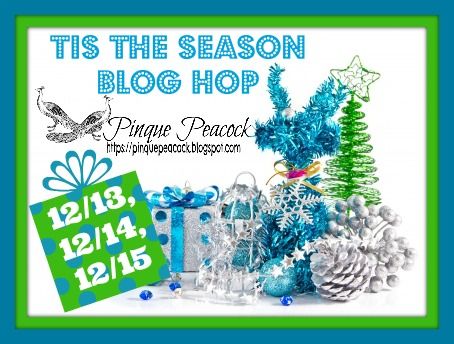 We hope you will enjoy your time as you hop and that you feel
inspired to create after visiting the Talented Pinquettes' Blogs!
This hop will showcase projects that have been created using some of the
We are thrilled to have you joining us this month!
This release is showcasing some NEW products as
well as some products that have been available in the
shop
for a while.
This is a great way to see the Pinque Peacock Products in action
and to get your creative imaginations in "Full Speed Ahead" mode!
Our DECEMBER Release will focus on the themes:
.....The Holidays are Upon Us.....
A wide array of products were created to be able to share
the projects you will see over the course
of this Blog Hop weekend.
All New Products will be added to the
SHOP
for you to Purchase and to start creating your very own
Holiday Celebration Masterpieces!!!
Here is a Glimpse at some of the things
you will see incorporated into
the Pinquettes' Artwork:
Festive Christmas Mix
Small Fabric Covered Buttons
Christmas Reds and Greens
Celebrate the New Year
Beautiful Beaded and Pearl Stick Pins
Large Fabric Covered Buttons
in an array of Festive Colors
BE SURE TO WATCH
FOR MORE PRODUCT SHOWCASES
Are you Ready to See these products IN ACTION?
order these items (and many others) to use on your very own projects!
!!!!Now, let's talk about the
BLOG HOP PRIZE!!!!
One winner, who has hopped all 3 days (Friday, Saturday, and Sunday)
of our Pinque Peacock DECEMBER Product Release and followed the
RULES BELOW will win
A $10 GIFT CERTIFICATE TO THE SHOP
Here is How*:
1 – Hop to ALL of the stops over the course of the 3 Day Hop
and comment at each Pinquette Blog (Lineup for all 3 Days is below)
3 –
Follow EACH of the Pinquettes' Personal Blogs
who are
participating as Hop Stops this weekend.
4 -
COMMENT at the Facebook Page
telling us what you liked
*You MUST do ALL of the steps above
to be included in the random drawing for the prize.
We would hate for you to lose out on winning just because
you didn't follow these easy rules :(
The Hop will remain open until Wednesday, DECEMBER 18th, at 8:00 a.m.
EST.
The random drawing will be held sometime during the week that
follows and announced by Wednesday, DECEMBER 25th.
Now, if you find yourself Hopping off the Path on any of the three days,
you can use this Lineup to get back on the Right Track . . .
DAY 1 (12/13/13):
DAY 2 (12/14/13):
DAY 3 (12/15/13):
Thanks so much for stopping by for the last stop of Day #1 of
our 'Tis the Season Blog Hop! I have created a 12"x12" Memory Board.
I have used a Christmas theme and incorporated the Red and
Green Christmas Stick
Pins and Jumbo Fabric Covered Button
with the Candy Cane print.
I tend to stay within the "vintage Christmas box," but I
chose to step out and make something a little more festive.
I purchased the board with wall mounted hanger at Hobby Lobby.
A 12" x 12" piece of scrapping paper fits perfectly. I used a metallic
red as the base, and then pulled out some festive Christmas borders
from my stash.
I attached red kraft bags with card inserts, vellum
envelopes and a
chiffon bag to hold gift tags, ribbon, notes, etc. I added circle
glitter and spray snow that dries to jazz it up. I used crinkle ribbon
around the handle and accented with dyed hemp twine. I hope you have
enjoyed my project and enjoy our hop and our awesome Pinque Peacock Products!
Thank You for hopping along and we hope you have Loads of Fun!